What's diamond painting? The ultimate guide for custom diamond painting in 2020
by
cs cs
On
Aug 28, 2020
-
Comment
What are diamond paintings?
Diamond paintings, also known as 5D DIY diamond paintings/paint with diamonds/paint by diamonds, are diamond painting designers who combine exquisite and sparkling artificial crystal flat round diamonds (some are square diamonds) with well-designed patterns.
The painter only needs to extract the point diamond tool to Stick the diamonds on the corresponding symbols on the canvas, so that the paste of a diamond is completed, and then slowly fill in the area corresponding to each symbol, and you can get started in a few minutes.
Compared with cross stitch, diamond painting has the advantages of simple operation and easy to use. When making the same pattern, the time for diamond painting is about 1/10 of cross stitch. 
According to the shape of the diamonds, they can be divided into crystal diamonds, round diamonds, and square diamonds.
Why are DIY diamond paintings more and more popular?
1. Easy to finish
With Diamond Painting, you apply tiny resin "diamonds" to a coded adhesive canvas to create vibrant paintings.

Diamond Painting is super fun and easy to learn no matter how old you are! Just have a look at the instruction above and find how to get started!
A 16*16 inch (40*40 cm) diamond painting can be completed in about 2 hours.
2. Fashionable element
DIY diamond painting brings together the current popular DIY concept and the most fashionable flash diamond concept, which can attract great attention in a short period of time and become popular all over the world.
The DIY diamond painting goes deep into it and enlarges the DIY spirit more accurately, which has been recognized by most people. At the same time, it is also because of the diversity of the design, and the desire and ability of creation in everyone's subconscious.
3. Perfect gifts
You can give your friends finished products to express your heart, or give your friends products to let them experience happiness and a sense of accomplishment.
You can even get your personalized diamond painting in iCustompainting. Just simply upload your photo and we'll send you your own diamond painting set!
4. Fashionable decoration in your home.
You can hang the framed finished product in the living room, study, and bedroom to add artistic flavor. You can also invite friends to visit the new house and proudly tell them "I made it by myself!" Put a hand-made picture at home The diamond painting, that is never tire of it!
5. It can help the elderly to spend time.
Give them DIY diamond paintings to pass their leisure time.

6. Cultivate children's hands-on ability and patience.
Let DIY diamond paintings improve their knowledge and aesthetics of color, cultivate children's practical ability and patience, and make them love the world more.
7. A new decompression tool
In the process of creating your diamond paintings, you will let go of all your worries and pressures, focus on your own creation, and get an extra sense of accomplishment as you complete your works one diamond by one diamond.
How to customize your own diamond painting?
1. Simply upload your photo and we'll take care of the rest!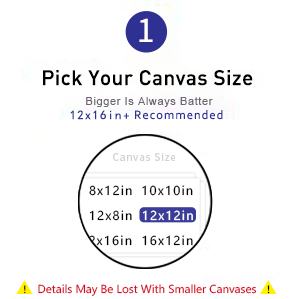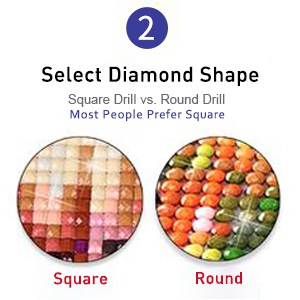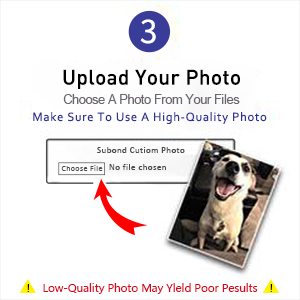 Free Photo Enhancements With Every Order
Our expert design team carefully reviews and optimizes every image to guarantee a beautiful result. What enhancements do we make to your photo?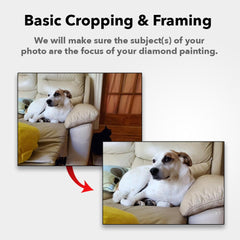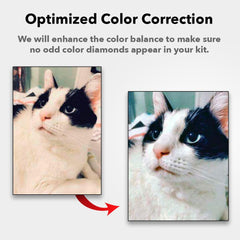 2. Choose a canvas size
Choose a size based on how many people are in your photo. Bigger is always better.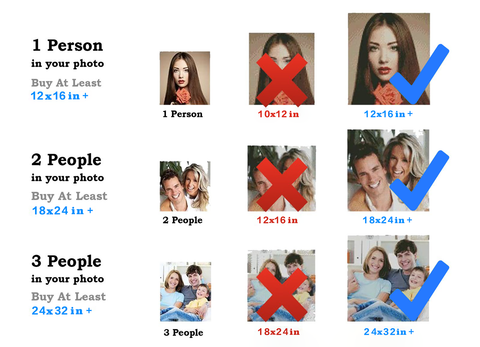 Choose a perfect photo
Not every photo works well in a Diamond Painting. In order to get your perfect diamond painting, make sure your photo is...
High Quality (Large)

Bright (Not Too Many Shadows)

Cropped Correctly (Match Canvas To Image Dimensions)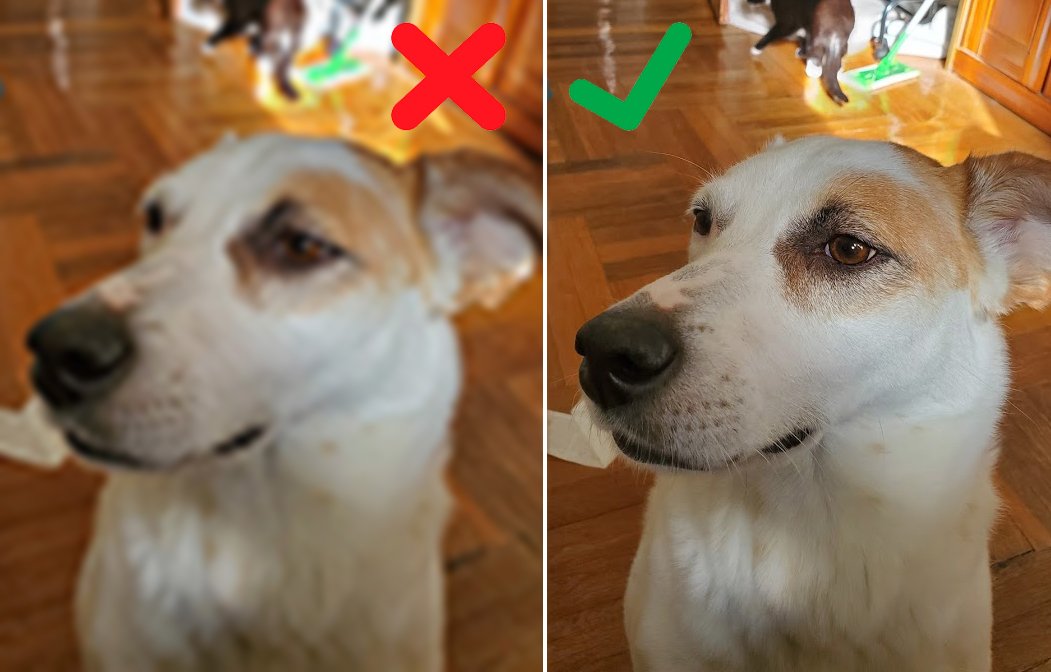 How to finish my diamond painting?
Don't worry, here is an instruction on how to finish a diamond painting for you:
 Step by step instructions:
Take out all the diamond painting tools
Put the corresponding diamonds on the plate.
Apply some glue to the tip of the pen.
Stick diamonds with the pen tip.
Paste the diamonds on the corresponding number.
Flatten the picture with a book after you finish your diamond painting!  
A hack of diamonds storage
You can use egg cartons to storage your diamonds! Simple, easy, and cheap! 
Just like this:
Hope you enjoy the diamond paintings!
You Might Also Like
Due to the impact of COVID-19, the delivery efficiency of our original warehouse has decreased, resulting in a decrease in...
read more
Ladies and gentlemen, The Halloween Promotion has been started now! You can use the discount code below for an Extra 15%...
read more
Latest Posts